---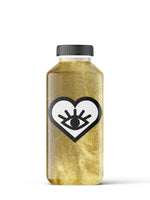 Abundance - 8 oz Bubble-Body Wash
Eye Love Love
Multi use product that can be used as both a body wash (Recommend with shower pouf sponge to lather) and bubbles for a luxurious bubble bath! Create a powerful shower or bath ritual with this hand made alchemy.
Ingredients

Geranium • Love, acceptance, bringing balance, attract happiness, prosperity, and positivity 
Lemon Verbena • Love, success, protection, purification, dream magick
Chamomile • Purification, protection and protection against psychic attack
Ginger • Abundance, prosperity, manifesting, good fortune in the home
Rose petals • Rose fills all the voids left behind with love. Love in all forms and the ability to give and receive love freely and with an open heart. Abundance, joy, happiness, gratitude, peace, wisdom 
Water, Vegetable glycerine, Castile soap, essential oils, Peg-80 Sorbitan Laurate, Aloe Barbadensis Leaf juice and mica.

Uses
Add to bath to create a spiritual bath ritual cleanse with a luxurious bubble bath or use in shower as body wash to cleanse your body. Lathers beautifully with loofah sponge! create a magical cleansing shower or bath ritual with our sacred alchemy!
NOT FOR CONSUMPTION 
No refunds, returns, exchanges. All sales final. 
After bath wipe tub down with cleanser if mica remains to prevent any staining. Not Responsible for any staining or damages.