---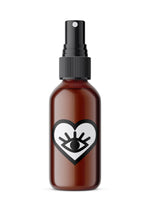 Ancestor Water - 4oz
Eye Love Love
Ancestor water made on the week of celebrations and charged on our big ofrenda/altar! This alchemy is created with ingredients to helps us connect to our ancestors daily. May this alchemy connect you to the other side and bring peace, love and healing from your ancestors. 


Ingredients
Distilled Water 
Calendula  
Marigolds/Cempasuchil  
Sea Salt 
Essential Oils 
Alcohol  To ensure freshness
My finishing touch is placing my energy of love and light over this beautiful water, surrounding them with intuitively chosen crystals to energetically charge even further. All ancestor alchemy was charged on our ofrenda! 
Directions 
Please shake prior to each use as ingredients may settle, store out of direct sunlight in cool dark place is best. Careful when spraying this batch on white clothing or bedding as the color is a deep rich color and may cause staining.
Uses
• Spray your body after a shower or bath as a daily spiritual hygiene 
• Diffuse in your diffuser
• Spray your spiritual objects like tarot decks and crystals 
• Spray in your sacred space to remove stagnant energy and bring in new fresh energy
• Spray before writing down intentions 
• Add to bath to create a spiritual bath ritual cleanse
• Add a small amount to your mop water to cleanse the home
• Offering on your altar 
• Spray yourself after encountering negative or toxic people, protect your energy!
• Spray on your mattress and bedding to clear any unwanted energy and rest well 
• Use before meditation  
• Spray on doors and windows to keep negative energies out
• Anoint any of your chakras to aid in clearing any blockages
Not for consumption 
Shake before use as ingredients may settle
Do not spray directly on clothing, may cause staining. Contains essential oils and other natural ingredients
Do not store in direct sunlight. Cool dark place is best. 
ALL SALES FINAL