---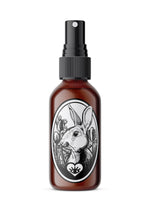 Vernal (Spring) Equinox Limited Edition - 4 oz Florida water
Eye Love Love
The first seasonal alchemy of 2023 honors the Vernal (Spring) Equinox, entire season of Spring and the year of the rabbit. Rabbit energy brings with it a fresh start, ambition, fertility, manifestation, abundance, creativity, clarity, tenderness, love and luck! Many shamans have also used the rabbit as a talisman of luck and protection. For many the rabbit is also connected to the moon like moon goddess Chang'e, Greek mythology, Egyptians and Native Americans. All have honored the rabbit and it's energy. The rabbit brings us the energy of quickness, moving forward and trusting that we will always find our way to the light through darkness. 2023 is the year of the chariot (Tarot) combined with the rabbit brings us all immense forward momentum.
Spring is also a time when we lean into spring cleaning and begin the process of  cleansing our homes. What better season to begin a spiritual hygiene regimen than SPRING.

Ingredients
Distilled water 
Lilac • High vibrational and reminds us that beauty is all around us just like Venus. Lilacs help us to leave old thought patterns and trauma in the past making space for new energy. Perfect for a fresh start and new beginning. Energy balancing which is perfect for the alignment all chakras.
Lily • Rebirth, renewal, new beginnings abundance, divine assistance and the clearing of any unwanted energies within your sacred spaces. Potent tool for spiritual barriers and aiding in removing negativity as-well as pessimistic energy.
Violet • Beauty, new beginnings, love, protection, healing and peace.  Known for death and rebirth this is the perfect addition to have gratitude for all that was cleared during winter and welcome in the rebirth of spring. They also are amazing to help with dream work, visions and creativity. 
Alcohol  • To keep all botanical ingredients fresh
Directions  
Uses
• Spray your body after a shower or bath as a daily spiritual hygiene 
• Diffuse in your diffuser
• Spray your spiritual objects like tarot decks and crystals 
• Spray in your sacred space to remove stagnant energy and bring in new fresh energy
• Spray before writing down intentions 
• Add to bath to create a spiritual bath ritual cleanse
• Add a small amount to your mop water to cleanse the home
 • Offering on your altar  
• Spray yourself after encountering negative or toxic people, protect your energy!
• Spray on your mattress and bedding to clear any unwanted energy and rest well 
• Use before meditation  
• Spray on doors and windows to keep negative energies out
• Anoint any of your chakras to aid in clearing any blockages
The uses for this beautiful rosewater are endless!  
Directions 
Please shake prior to each use as ingredients may settle, store out of direct sunlight in cool dark place is best. Careful when spraying this batch on white clothing or bedding as the color may cause staining.
NOT FOR CONSUMPTION 
ALL SALES FINAL
NO RETURNS