---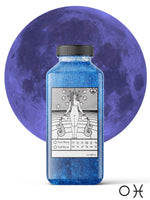 Super Blue Full Moon Pisces - 8 oz Bubble-Body Wash
Eye Love Love
Multi use product that can be used as both a body wash (Recommend with shower pouf sponge to lather) and bubbles for a luxurious moon charged bubbled bath! Create a powerful shower or bath ritual with this hand made cleansing alchemy.
Ingredients 
Essential Oils; Lavender, sweet orange, bergamot, palmarosa, cedar-wood
Lavender The word lavender comes from the Latin root Lavāre which means 'to wash' as the Romans used it to scent their bath water. Utilizing lavender in this alchemy is a wonderful way to tap into spiritual hygiene and  "wash" your energetic body. Lavender brings peace and calm but also can be used to cleanse your environment of negativity, and neutralize any stale, lingering bad vibes. This was added to quiet the mind and bring your physical body to a place of immense relaxation. It aids in your body, mind and spirit to find balance. 
Sweet Orange Orange is great for embodying bright energy which I wanted to bring into this batch with the super blue full moon in pisces. Its scent is good for dealing with obsessive thinking and and turning back to what is important. Extremely important for the release of a Full Moon and focusing on things that need to be reassessed. We are still in retrograde season and this will aid in reevaluating anything showing up in your life. 
Bergamot A beautiful essential oil that welcomes in new opportunities and prosperity into your life. It will also clear your mind allowing peace and harmony in. Bergamot is also wonderful for energetic strength, protection, confidence and keeping your energy balanced. What better essential oil to support this batch than Bergamot for magnificent and dreamy Pisces. 
Palmarosa Palmarosa has a calming affect on the body, mind and spirit; encouraging deep restful sleep and aids in astral travel.  It is calming, supportive, grounding, self love, purpose, clarity, strength and also helps in matters of the heart. A wonderful essential to help heal the heart chakra. It can aid in helping you overcoming negative emotions and attachments that prevent you from moving on. 
Cedar-wood Used to encourage a feeling of peace, mental clarity, focus and relaxation. Cedar-wood encourages the energy to breathe and release difficult things. It is said that the wood has the powerful ability to heighten awareness of the spiritual realm. In ancient Egypt temple doors in every temple were fashioned from cedar to enrich and magnify devotee's awareness of their gods. Cedar throughout time has been used to bring a sense of relaxation, calm and helps the mind to release worries and woes allowing them to drift away. In Arabic Cedar translates to "Power" and brings a soothing yet powerful energy. brings protection, wards off attentions of negative people, consecrate amulets and to cleanse magical tools.  
Water, Vegetable glycerine, Castile soap, essential oils, Peg-80 Sorbitan Laurate, Aloe Barbadensis Leaf juice and mica.
Uses

Add to bath to create a spiritual bath ritual cleanse with a luxurious bubble bath or use in shower as body wash to cleanse your body. Lathers beautifully with loofah sponge! create a magical cleansing shower or bath ritual with our moon charged alchemy!
NOT FOR CONSUMPTION 
No refunds, returns, exchanges. All sales final. 
After bath wipe tub down with cleanser if mica remains to prevent any staining. Not Responsible for any staining or damages.