---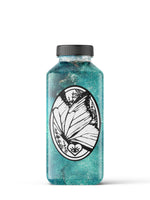 Summer Solstice Limited Edition - 8 oz Bubble-Body Wash
Eye Love Love
Featuring the magical and mystical butterfly Bringing in the energy of transformation, hope, positivity, rebirth, change, joy, insight and expansion of awareness.
Ingredients
Calendula to honor our ancestors
Rose to honor your heart, all forms of love + raise your vibration
Lavender to call in peace and protection
Geranium to ignite creativity 
Ylang-Ylang to awaken our confidence in self and our words
Chamomile to bring in JOY, passion and the energy of the SUN!
Butterfly pea to open roads, welcome new opportunities, make your dreams a reality
Blue cornflower for abundance and protection
Water, essential and fragrance oil, vegetable glycerine, Castile soap, essential oils, Peg-80 Sorbitan Laurate, Aloe Barbadensis Leaf juice and mica.
Dried Butterfly Pea Blossom
Dried Cornflower 
Uses

Add to bath to create a spiritual bath ritual cleanse with a luxurious bubble bath or use in shower as body wash to cleanse your body. Lathers beautifully with loofah sponge! create a magical cleansing shower or bath ritual with our moon charged alchemy!
NOT FOR CONSUMPTION 
No refunds, returns, exchanges. All sales final. 
After bath wipe tub down with cleanser if mica remains to prevent any staining. Not Responsible for any staining or damages.