---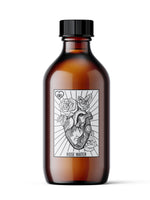 Rosewater - 8oz
Eye Love Love
Roses vibrate higher than any other plant or flower at around 320 megahertz. The rose has forever been connected to love and many goddesses like; Venus, Aphrodite and Hathor.  With this batch I wanted to honor the rose and all forms of love. 
When I began preparations for this batch I knew that it had to be more than romantic love for all forms surround us each day. I thought of the love that I receive daily from my angels and guides, their love so pure. Growing up my mother would always place white flowers on her altar and create spiritual baths them. To honor them just as if I was placing flowers on my alter they had to be white. 
Next I focused and meditated on the love I share with my family and friends. This love is a supportive and encouraging love. Their love spans lifetimes and our love never fades even though we may be far apart. It has been difficult I am sure of this for everyone and with these roses I wanted to honor that bond we all share. For this I chose bright beautiful yellow.
Self love is the most important form of love. This love is the kind that asks us to be kind, gentle and patient with ourselves. I envisioned beautiful rose quartz and how it heals our heart chakra. I always feel a warm embrace when working with rose quartz and wanted to bring that healing energy to this water in the form of color. Honoring self love with the most beautiful pink roses. My intent is to help you embrace all parts of yourself with love. 
Lastly we have romantic love. Immediately I knew that red roses would signify romantic love and bring that wonderful energy to us all. Red is associated with the root chakra and is responsible for our sense of security and safety. The color red symbolizes passion, love and desire.  Red roses has been used for thousands of years to show love. In fact, even Shakespeare used this romantic flower to complete his classic Romeo and Juliet. It had to be red!
The rose has been part of rituals, art, weddings, celebrations and even coins. Cleopatra was known to use the rose for many thing even skincare. Vishnu, the supreme God of India, formed his bride, Lakshmi, from 108 large and 1,008 small rose petals. Aphrodite Goddess of Love was also seen as the creator of the rose with a wild story. The rose and its magic has spanned lifetimes and here we are today still honoring is beauty, grace, scent and energy. 
May you feel surrounded by love and manifest all forms of it in your life. A few affirmations to use with my beautiful rosewater.
I am open and ready to give and receive love
I am worthy of love
True love starts within
I am radiating love
I choose love over fear
I believe in love
My love is a precious gift that I have the power to choose when, how, and to whom to give
I release all trauma and pain may those voids be filled with love
Directions 

Please shake prior to each use as ingredients may settle, store out of direct sunlight in cool dark place is best. Careful when spraying this batch on white clothing or bedding as the color is a deep rich red and may cause staining.
Ingredients
• Distilled water 
• Rose petals: White, yellow, pink and red
• Rose essential oil 
• Alcohol  (Vodka)
As a finishing touch the water is placed is surrounded with intuitively chosen crystals to energetically charge even further, along with my energy of love and light over this beautiful water. You'll love this modern interpretation of the traditional spiritual rose water recipe. Keeping the main ingredients and adding my own special touch. 
Uses
• Spray your body after a shower or bath as a daily spiritual hygiene 
• Diffuse in your diffuser
• Spray your spiritual objects like tarot decks and crystals 
• Spray in your sacred space to remove stagnant energy and bring in new fresh energy
• Spray before writing down intentions 
• Add to bath to create a spiritual bath ritual cleanse
• Add a small amount to your mop water to cleanse the home
• Offering on your altar 
• Spray yourself after encountering negative or toxic people, protect your energy!
• Spray on your mattress and bedding to clear any unwanted energy and rest well 
• Use before meditation  
• Spray on doors and windows to keep negative energies out
• Anoint any of your chakras to aid in clearing any blockages
The uses for this beautiful rosewater are endless! 
Not for consumption 
Shake before use as ingredients may settle
Do not spray directly on clothing, may cause staining. Contains essential oils and other natural ingredients
Do not store in direct sunlight. Cool dark place is best.