---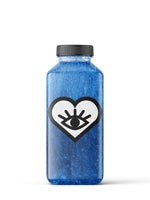 Evil Eye Protection - 8 oz Bubble-Body Wash
Eye Love Love
Multi use product that can be used as both a body wash (Recommend with shower pouf sponge to lather) and bubbles for a luxurious bubble bath! Create a powerful shower or bath ritual with this hand made alchemy.
Ingredients

Sage • Sage is commonly used to rid yourself and your space of negativity. This includes past traumas, bad experiences, or negative energies from others.
Angelica • Angelica is a root and believed to be a very protective, aids in blocking negative energies, powerful guardian, healer and also provides strength. Used by many to ward off evil and bring good luck to health and family. Also known to bring prosperity, purification, divination and blessings.
Blue Tansy • This herb is protective. The word tansy comes from the Greek word "Athanaton" meaning "immortal" Blue Tansy is used for longevity spells, spirit work + ancestral veneration. Blue Tansy is one of the highest vibrational plants and essential oils that elevates your personal frequency welcoming in fresh new abundant energy.
Rose • Roses vibrate higher than any other plant or flower at around 320 megahertz. The rose has forever been connected to love and many goddesses like; Venus, Aphrodite and Hathor.  For this batch I used a gorgeous purple roses just for a deep spiritual cleanse. My rose water is handmade in house and rose fills all the voids left behind with love
Rosemary • Bringing you energy of abundance, growth and to aid in awakening the heart. Mint and rosemary will increase the vibrations of any space and expels negative energy. Elevate is the key word here!
Water, Vegetable glycerine, Castile soap, essential oils, Peg-80 Sorbitan Laurate, Aloe Barbadensis Leaf juice and mica.

Uses
Add to bath to create a spiritual bath ritual cleanse with a luxurious bubble bath or use in shower as body wash to cleanse your body. Lathers beautifully with loofah sponge! create a magical cleansing shower or bath ritual with our sacred alchemy!
NOT FOR CONSUMPTION 
No refunds, returns, exchanges. All sales final. 
After bath wipe tub down with cleanser if mica remains to prevent any staining. Not Responsible for any staining or damages.