---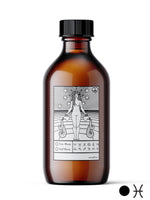 New Moon Pisces - 8 oz Florida water
Eye Love Love
Ingredients
Distilled water 
Lavender buds and essential oil •  Immediately brings peace and calm but also can be used to cleanse your environment of negativity, and neutralize any stale, lingering bad vibes. This was added to quiet the min and bring your physical body to a place of immense relaxation. It aids in your body, mind and spirit to find balance. 
My lavender comes straight from Provence where the glorious lavender fields thrive. It is from a small family run lavender farm. 

Orchid
 • A
 symbol of purity, these fresh orchids 
symbolize new beginnings,  love, faith, humility, safety, elegance, innocence, beauty,
fertility, virility, and sexuality. 
Orchid blooms have bilateral symmetry, which is similar to human faces. In fact, some experts theorize that this is one of the reasons we like them so much: They remind of us ourselves. As a symbol of beauty, the orchid inspires us to pause and reflect on the exquisite artistry of nature. Just like taking the time to "smell the roses" the orchid reminds us to cherish every instance of beauty. As the saying goes, "At every moment, something sacred is at stake."
Sea Salt • Protection, cleansing and healing. Considered one of the most sacred minerals on earth. I specifically selected sea salt for this batch to tap into the cleansing energy of the sea.
Alcohol 

 
To keep all botanical ingredients fresh.
• Spray your body after a shower or bath as a daily spiritual hygiene 
• Diffuse in your diffuser
• Spray your spiritual objects like tarot decks and crystals 
• Spray in your sacred space to remove stagnant energy and bring in new fresh energy
• Spray before writing down intentions 
• Add to bath to create a spiritual bath ritual cleanse
• Add a small amount to your mop water to cleanse the home
• Offering on your altar 
• Spray yourself after encountering negative or toxic people, protect your energy!
• Spray on your mattress and bedding to clear any unwanted energy and rest well 
• Use before meditation  
• Spray on doors and windows to keep negative energies out
• Anoint any of your chakras to aid in clearing any blockages
The uses for this beautiful rosewater are endless!  
Directions 

Please shake prior to each use as ingredients may settle, store out of direct sunlight in cool dark place is best. Careful when spraying this batch on white clothing or bedding as the color is a deep rich color and may cause staining.
NOT FOR CONSUMPTION 
ALL SALES FINAL