---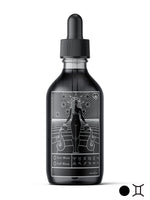 New Moon Gemini Shadow - 4 oz Oil
Eye Love Love
New Moon Gemini Shadow was charged under the new moon in gemini from sunset to sunrise. This alchemy was created to aid in shadow work and help to you go deeper and face your shadow. 
Ingredients
Oils • Apricot, Sunflower, Jojoba 

Essential Oils 

Dragons Blood • Used to neutralize negative energy, increases the potency of any alchemy it is blended with as an amplifier, assists in astral traveling to go deeper into our shadow work, attracts abundance and prosperity. 
Saffron • Saffron is irresistibly tantalizing and draws us in with its sultry, sense-provoking aroma and the lure of its passionate and seductive energy. It inflames our sensualities, quickens our blood and lights the fire within our soul. We're tapping into action here!
Sandalwood • Brings us closer to the divine, encourages peace and calm, aids in clearing the body, mind and spirit. It is believed that sandalwood helps you to stay connected to the physical during meditation while the brain wanders off. Perfect addition for shadow work.
Patchouli • Associated with love, wealth, and passion, patchouli can be used in a variety of magical workings. Blends beautifully with the other ingredients creating a sensual scent and energy
Mica
Crystal Chips • Quartz Point + Moonstone 
Uses

• Apply to your body after a shower or bath as a daily spiritual hygiene 
• Anoint your spiritual objects like tarot decks and crystals 
• Anoint your written intentions 
• Add to bath to create a spiritual bath ritual cleanse (Combine with a bit of your favorite soap to emulsify before adding to water) 
• Offering on your altar 
• Utilize to anoint candles and use for spell work
• Anoint yourself after encountering negative or toxic people, protect your energy!
• Use before meditation   
• Anoint any of your chakras to aid in clearing any blockages
Directions 
Please shake prior to each use as ingredients may settle. Must Store out of direct sunlight in cool dark place is best. 
NOT FOR CONSUMPTION 
No refunds, returns, exchanges. All sales final.