---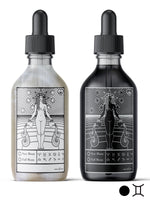 New Moon Gemini Light + Shadow Bundle - Liquid Love
Eye Love Love
Bundle includes one 4oz bottle of Light and one 4oz bottle of Shadow.
New Moon Light was charged under the sun from sunrise to sunset under the sun in Gemini. My intention with this oil is to bring us peace, calm, serenity, strength and the ability to speak our truth. To embrace our most authentic selves and voices. To understand all facets of ourselves and work with each one honoring them in their own way. Understanding your needs and vocalizing this in a healthy way.

Gemini is a youthful and playful energy. It reminds us to tap into our inner child and have a little fun while healing.
Ingredients

Oil Base • Sunflower Oil, Apricot Oil + Jojoba Oil 
Essential Oils • Sunflower, Freesia, Jasmine + Blue Lotus 
Mica 
Crystal chips •  Quartz point that was charged with lemurians + moonstone  
New Moon Gemini Shadow was charged under the new moon in gemini from sunset to sunrise. This alchemy was created to aid in shadow work and help to you go deeper and face your shadow. 

Ingredients
Oil Base •

 
Apricot, Sunflower, Jojoba 
Essential Oils • Dragons Blood, Sandalwood, Saffron and dash of Patchouli 
Mica
Crystal chips • Smoky quartz + Black rutile quartz
Uses
• Apply to your body after a shower or bath as a daily spiritual hygiene 
• Anoint your spiritual objects like tarot decks and crystals 
• Anoint your written intentions 
• Add to bath to create a spiritual bath ritual cleanse (Combine with a bit of your favorite soap to emulsify before adding to water) 
• Offering on your altar 
• Utilize to anoint candles and use for spell work
• Anoint yourself after encountering negative or toxic people, protect your energy!
• Use before meditation   
• Anoint any of your chakras to aid in clearing any blockages
Directions 
Please shake prior to each use as ingredients may settle. Must Store out of direct sunlight in cool dark place is best. 
NOT FOR CONSUMPTION 
No refunds, returns, exchanges. All sales final.