---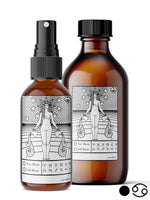 New Moon Cancer Bundle - Florida water
Eye Love Love
Bundle includes: 4oz spray, 8oz refill + mini 
This alchemy was birthed from my travels to the south of France -
Côte d'Azur.

 
While wandering around the different towns I fell in love with Grasse which is known as the perfume Mecca of the world. While there I gathered potent essential oils for Eye Love Love, one of which being magnolia. Magnolia is the perfect pairing for New Moon Cancer as it symbolizes and hold the energy of the divine feminine.
Cancer is ruled by the moon and with it controls our waves of emotions just as it does the tides. This is a great moon to work on the things that are weighing you down emotionally. Allow the energy of water to wash them away and tap into the flow! When I say flow I mean waves of healing, It's not always easy but there is a beautiful calm after each wave and if we look at them as small waves they become more manageable. Cancer is the divine feminine, emotion, heart, family and nurturing. How can you better nurture yourself?! How can you parent yourself? What makes you feel safe and secure? How can you nurture those around you in a healthy way? Cancer is like a mother's embrace protecting your as you heal. Allow it to hold you and support you during the healing process. If you float and go with the flow the waves carry you instead of making you feel overwhelmed. 
New Moon Cancer was also a powerful manifestation moon. What areas of your life need attention and care? What can you water and watch grow? Utilize this moon water to put those intentions out into the universe and trust that it has your back.
Trust your intuition and heart to be your inner compass.
Ingredients
Distilled water 
Magnolia • Magnolias are linked to the divine feminine, protection, self love, balance, beauty, grace ,elegance, refinement, strength, purity, spiritual growth and most of all LOVE! Interesting magnolia is also known to create a bond in relationships, foster healthy connections and protect sentimental unions. Magnolia is a powerhouse in helping you to tap into your passion and become a magnet for what you would like to attract. This alchemy will fill your home and sacred spaces with a welcoming atmosphere and linked to the love goddesses Aphrodite and Venus. As I type this I keep hearing "Sprouting love" 
Alcohol  To ensure freshness. 

My finishing touch is placing my energy of love and light over this beautiful water, surrounding them with intuitively chosen crystals to energetically charge even further. 
You'll love this modern interpretation of an old spiritual water recipe. Keeping the main ingredients and adding a little more. 
Uses
• Spray your body after a shower or bath as a daily spiritual hygiene 
• Diffuse in your diffuser
• Spray your spiritual objects like tarot decks and crystals 
• Spray in your sacred space to remove stagnant energy and bring in new fresh energy
• Spray before writing down intentions 
• Add to bath to create a spiritual bath ritual cleanse
• Add a small amount to your mop water to cleanse the home
• Offering on your altar 
• Spray yourself after encountering negative or toxic people, protect your energy!
• Spray on your mattress and bedding to clear any unwanted energy and rest well 
• Use before meditation  
• Spray on doors and windows to keep negative energies out
• Anoint any of your chakras to aid in clearing any blockages
Directions 
Please shake prior to each use as ingredients may settle, store out of direct sunlight in cool dark place is best. Careful when spraying this batch on white clothing or bedding may cause staining.
NOT FOR CONSUMPTION 
No refunds, returns, exchanges. All sales final.