---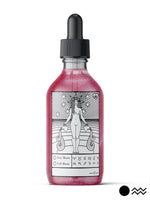 New Moon Aquarius Oil - 4 oz Liquid Love
Eye Love Love
New Moon Aquarius is bringing authenticity and inner child energy with it! Allowing uninhibited joy to flow into our lives. When channeling for this alchemy the message was loud and clear. How can you show up as your most authentic self for not only you but the collective?! How can you embrace play?! How can you love your inner child?! All these amazing memories came flooding back of "play" as we get older we lose touch with that sense of play and it's time to bring it back. BE YOURSELF! live the most joyful, playful and authentic life for YOU! Who says we can't play as adults?!  It's okay to feel silly and let go of the "what will people think?!"…"Im too old for that!"…."I will be embarrassed" focus on fun, being yourself and embracing uninhibited joy.
Time to have hope and start a new journey. Its quite interesting as The Star in the major arcana is the Aquarius card and it feels like hope is renewed with this new moon. New year, new moon, new cycle, new beginning, new energy, NEW YOU!
Ingredients
• Sweet Pea: Corresponds to the element of air and said to inspire loyalty and affection. Beauty, compassion, fidelity, friendship, happiness, joy, love, luck, meditation, pleasure, reconciliation, and youth. Which is perfect for embracing your inner child and Aquarius....the collective sign.
• Fig: Love, protection, creativity, knowledge, divination and luck. Fig embodies the feminine shape, ripe with fertility. Each one full of seeds, the source of knowledge and creation. Aquarius is all about authenticity and creativity perfect pairing with fig.  
• Pomegranate: To honor a card that shows up often for me in tarot, The High Priestess. She is often depicted surrounded by pomegranates. Spirituality, thirst for knowledge, mystery, subconscious, higher power, creativity and fertility. 
• Oils: Apricot Kernel Oil, Jojoba Oil , Sunflower Oil
• Essential/Fragrance Oil: Sweet pea, fig + pomegranate 
• Pigment 
• Rose Quartz crystal to amplify all ingredients 
Uses
• Apply to your body after a shower or bath as a daily spiritual hygiene 
• Anoint your spiritual objects like tarot decks and crystals 
• Anoint your written intentions 
• Add to bath to create a spiritual bath ritual cleanse (Combine with a bit of your favorite soap to emulsify before adding to water) 
• Offering on your altar 
• Utilize to anoint candles and use for spell work
• Anoint yourself after encountering negative or toxic people, protect your energy!
• Use before meditation  
• Anoint any of your chakras to aid in clearing any blockages
Please shake prior to each use as ingredients may settle. Must Store out of direct sunlight in cool dark place is best. 
NOT FOR CONSUMPTION 
No refunds, returns, exchanges. All sales final.