---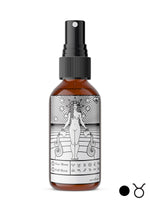 MEDUSA New Moon Taurus - 4 oz Florida water
Eye Love Love
The celestial dance continues as we welcome the captivating influence of the New Moon in Taurus and the enigmatic Medusa. Taurus the earthy and sensual sign invites us to ground ourselves in the present moment. It is also a call to reconnect with the beauty of the physical world. Under this lunar phase, we are encouraged to indulge in self care, spend time in nature and savor the simple pleasures that nourish our souls.
Alongside Taurus, we encounter the mythical Medusa, a symbol of transformative power and divine femininity. Medusa's fierce gaze challenges us to confront our deepest fears, unravel old patterns and embrace our inner strength. She reminds us that even the darkest experiences can be sources of empowerment and growth.
Ingredients
Distilled water • Charged under the New Moon in hand made glass vessels decorated with the seed of life further charging and adding additional energy into my moon charged water 
Vetiver • Aids in protection against the evil eye, a symbol of peace, Brings love which is important to balance for Aquarius. Keeping the heart open and willing to receive all forms of love.
Cedar-wood • Used to encourage a feeling of peace, mental clarity, focus and relaxation. Cedar-wood encourages the energy to breathe and release difficult things. It is said that the wood has the powerful ability to heighten awareness of the spiritual realm. In ancient Egypt temple doors in every temple were fashioned from cedar to enrich and magnify devotee's awareness of their gods. Cedar throughout time has been used to bring a sense of relaxation, calm and helps the mind to release worries and woes allowing them to drift away. In Arabic Cedar translates to "Power" and brings a soothing yet powerful energy. brings protection, wards off attentions of negative people, consecrate amulets and to cleanse magical tools.  
Juniper Berry • Juniper is used as a cleansing, healing and purificatory herb. It banishes any negative energy in its immediate area and encourages fresh energy and growth. It protects against evil forces and persons and also  protects against psychic attack. Juniper increases the psychic faculties and breaks hexes and curses. 
Tulsi • 
Tulsi is also known as holy basil and with a name like that of course it will be potent and powerful. Tulsi is often used for 
prosperity, major transitions, purification,
balance, 
wealth, fortune, abundance, love, beauty and power. 
Thyme • The presence of thyme alone creates a safe spiritual space. This makes it possible to manifest and open the door for spirit to communicate. Wonderful for purification, cleansing, luck, love intentions and to encourage bravery. 
Alcohol 
 My finishing touch is placing my energy of love and light over this beautiful water, surrounding them with intuitively chosen crystals to energetically charge even further. This batch was charged with Lemurian quartz, Ocean Jasper and Vivianite. You'll love this modern interpretation of an old spiritual water recipe. Keeping the main ingredients and adding a little more. 
Uses
• Spray your body after a shower or bath as a daily spiritual hygiene 
• Diffuse in your diffuser
• Spray your spiritual objects like tarot decks and crystals 
• Spray in your sacred space to remove stagnant energy and bring in new fresh energy
• Spray before writing down intentions 
• Add to bath to create a spiritual bath ritual cleanse
• Add a small amount to your mop water to cleanse the home
• Offering on your altar 
• Spray yourself after encountering negative or toxic people, protect your energy!
• Spray on your mattress and bedding to clear any unwanted energy and rest well 
• Use before meditation  
• Spray on doors and windows to keep negative energies out
• Anoint any of your chakras to aid in clearing any blockages
Directions 
Please shake prior to each use as ingredients may settle, store out of direct sunlight in cool dark place is best. Careful when spraying this batch on white clothing or bedding may cause staining.
NOT FOR CONSUMPTION 
No refunds, returns, exchanges. All sales final.