---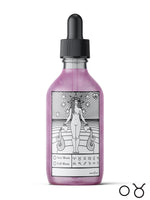 Full Moon Taurus Oil - 4 oz Liquid Love (ALLERGY FREE)
Eye Love Love
Taurus calls upon us to be our own anchor
Taurus is a sign of strength and endurance
Taurus builds
Taurus slows down
Taurus enjoys
Taurus stays calm and carries on.
This is a beautiful time to gather our energy and work on believing and trusting that the universe has your back!
Full moons are known for being a time to release stagnant energy, thoughts, blocks, old emotions and old baggage. Transcend all those spiritual barriers and bring in new energy, Utilizing this Taurus full moon to release that stubborn stagnant energy.
Release, release, release so that you can let love and light in. 
Ingredients
Oil Base • Apricot Kernal, sunflower oil, jojoba oil
Essential oils • Night Jasmine, rose + peony 
Mica  
Kunzite chips
Uses
• Apply to your body after a shower or bath as a daily spiritual hygiene 
• Anoint your spiritual objects like tarot decks and crystals 
• Anoint your written intentions 
• Add to bath to create a spiritual bath ritual cleanse (Combine with a bit of your favorite soap to emulsify before adding to water) 
• Offering on your altar 
• Utilize to anoint candles and use for spell work
• Anoint yourself after encountering negative or toxic people, protect your energy!
• Use before meditation  
• Anoint any of your chakras to aid in clearing any blockages
Directions 
Please shake prior to each use as ingredients may settle. Must Store out of direct sunlight in cool dark place is best. 
NOT FOR CONSUMPTION 
No refunds, returns, exchanges. All sales final.