---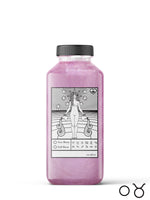 Full Moon Taurus - 8 oz Bubble-Body Wash
Eye Love Love
Ingredients
Night Jasmine • The name jasmine originates from the word Yasmin which means gift from God and refers to its scent. Unlike many other plants, jasmine blooms only at night which is why I used it for Full Moon Taurus. Jasmine will welcome in love, prosperity, psychic advancement and astral travel.
Rose • Roses vibrate higher than any other plant or flower at around 320 megahertz. The rose has forever been connected to love and many goddesses like; Venus, Aphrodite and Hathor.  For this batch I used a gorgeous purple/pink roses just for a deep spiritual cleanse. Our rose water is handmade in house and rose fills all the voids left behind with love.
Peony * Protection for yourself, family, or friends from negative energy. Release from sorrow or what no longer serves you. Peony will work with you on all of these needs.
Water, Vegetable glycerine, Castile soap, essential oils, Peg-80 Sorbitan Laurate, Aloe Barbadensis Leaf juice and mica.

Uses

Add to bath to create a spiritual bath ritual cleanse with a luxurious bubble bath or use in shower as body wash to cleanse your body. Lathers beautifully with loofah sponge! create a magical cleansing shower or bath ritual with our moon charged alchemy!
NOT FOR CONSUMPTION 
No refunds, returns, exchanges. All sales final. 
After bath wipe tub down with cleanser if mica remains to prevent any staining. Not Responsible for any staining or damages.