---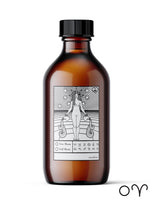 Super Full Moon Aries - 8 oz Florida water
Eye Love Love
Ingredients

Distilled water • Charged under the Full Moon in hand made glass vessels decorated with the seed of life further charging and adding additional energy into my moon charged water. 
Coffee • Coffee has long been known to have a sacred and spiritual importance. Coffee has been known to aid in removing blockages, boosts and speeds up spell-work/ritual work, divination, creativity, helps to awaken your inner light, removes negative energy, aids in opening your throat chakra, helps to focus and reach deeper meditation, energy boost, offering to ancestors and grounding. The aroma and ritual of preparing and savoring a cup of coffee can provide a moment of pure magic! I hope the same transpires as you work with this alchemy.
Coffee grounds and coffee essential oil were used to create this batch
Alcohol  To ensure freshness
My finishing touch is placing my energy of love and light over this beautiful water, surrounding them with intuitively chosen crystals to energetically charge even further. You'll love this modern interpretation of an old spiritual water recipe. Keeping the main ingredients and adding a little more. 
Uses
• Spray your body after a shower or bath as a daily spiritual hygiene 
• Diffuse in your diffuser
• Spray your spiritual objects like tarot decks and crystals 
• Spray in your sacred space to remove stagnant energy and bring in new fresh energy
• Spray before writing down intentions 
• Add to bath to create a spiritual bath ritual cleanse
• Add a small amount to your mop water to cleanse the home
• Offering on your altar 
• Spray yourself after encountering negative or toxic people, protect your energy!
• Spray on your mattress and bedding to clear any unwanted energy and rest well 
• Use before meditation  
• Spray on doors and windows to keep negative energies out
• Anoint any of your chakras to aid in clearing any blockages
Directions 
Please shake prior to each use as ingredients may settle, store out of direct sunlight in cool dark place is best. Careful when spraying this batch on white clothing or bedding may cause staining.
NOT FOR CONSUMPTION 
No refunds, returns, exchanges. All sales final.